Always dreamt of planning the perfect winter wedding, but don't know where to start? Don't worry, we've got five top tips to help you plan your big day. 
There's something so appealing about a winter wedding. The magical images of snow and frost on the ground. Our natural urge to wrap up warm and get cosy, retreat indoors with a glowing fire and bring in beautiful foliage like the holly and the ivy.  Food and drink at this time of year always conjures up ideas of feasting, families and friends coming together – celebrating the year just gone and looking forward to a new year ahead. There's a few things you'll need to consider when planning the ultimate winter wedding to ensure you and your guests are warm, comfortable and enjoy the day! Keep reading to find out our top tips to help you on your wedding journey…
1. Choose a magical winter wedding venue
Winter weddings can be magical and romantic, but one of the most important things to plan is your wedding venue. Choosing your wedding venue can be a bit overwhelming no matter what the season, but if you're planning a magical winter wedding you'll want to make sure your guests are comfortable and warm. 
At Stockton House you have so many options in terms of where you can hold your wedding ceremony. Of course, particular spaces lend themselves better to different seasons but the choice is all yours and whichever season you choose to get married in we'll make sure it's a day to remember! 
We have a purpose-built secret walled garden dining room with orangery windows – but don't worry, this room will be warm and cosy with state of the art heating, lighting and sound systems. The beautiful, bold orangery windows will bring an element of the beautiful winter views and Shropshire scenery from outdoors into the dining room for you and your guests to enjoy. Imagine the dining room full of beautiful green foliage, twinkling fairy lights, dancing candles and lanterns everywhere – it'll be like your very own winter wonderland! 
Of course, we also have the stunning Victorian Turning House. Imagine beautiful white, crisp snow across the lawns at Stockton House, and a rich and warm floral arrangement around the archway of the Victorian Turning House. Your guests could grab a warm blanket before taking their seats on the lawn with a glass of mulled wine, cider or gin in hand! Experiment with the season…you might want to have a lovely fire on the lawns as you exchange your vows to give you and your guests that little bit of extra warmth! An outdoor ceremony in the winter months isn't for everyone, as you can't guarantee the weather but it's certainly an option here at Stockton – but there's plenty of back-up options if you change your mind on the day! 
Furthermore, we're in the middle of the Shropshire countryside and nestled in thousands of acres of beautiful country estate. The winter scenes are heartwarming and breathtaking. With a delightful 11th century church just down the lane, you could hold your wedding ceremony here and you and your guests could enjoy a short winter walk from the church after your ceremony to the house. St Chad's church has seen over 900 winters and is blessed with some stunning architecture.  If you'd like a church wedding, then our church and grounds are the perfect place. You can then capture photographs down the tree-lined lane, stroll down to the woods amongst the snowdrops and take advantage of all of the wonderful wintery scenery we have here at Stockton.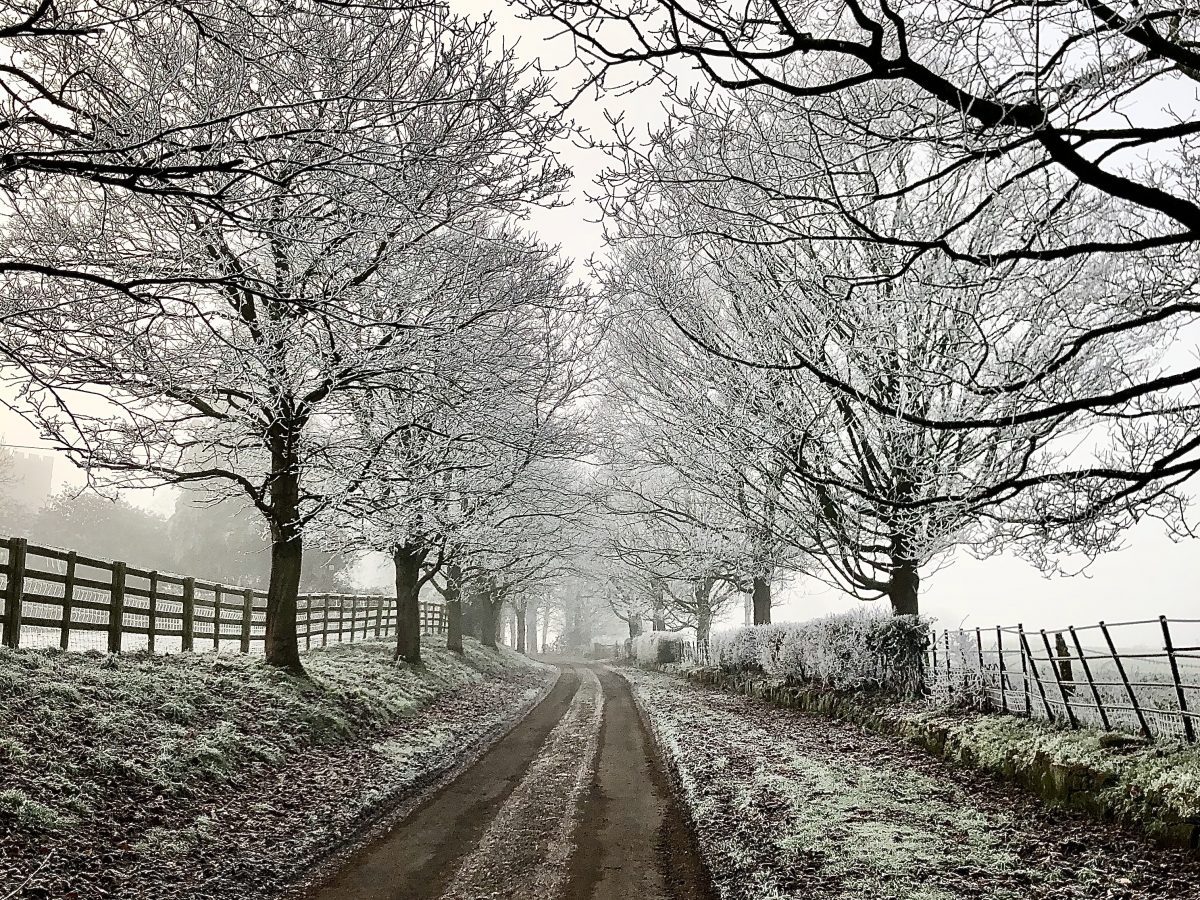 2. Always have a plan B
Following on from our first top tip…when hosting a winter wedding you'll need to be prepared for all weather conditions and temperatures! You could have planned the most perfect outdoor winter wedding ceremony, but if it's raining, snowing or just freezing cold, you may want to hold your wedding ceremony indoors instead. We would suggest always having a plan B and speak to your wedding venue or wedding planner about this before your wedding day. 
If you're planning to have an outdoor wedding ceremony, or host any part of your wedding outdoors, make sure you let your guests know so they can wrap up warm and plan their outfit accordingly. There's nothing worse than having freezing cold guests with chattering teeth over your wedding vows! More importantly, when you're planning your wedding dress and choosing your bridesmaid dresses you may want to consider long sleeves or faux fur jackets to give you that little bit of extra warmth – and after all, who doesn't want a bit of faux fur on their wedding day?!
At Stockton House, we'll have a team on the day of your wedding to ensure everything runs smoothly! They'll be fully briefed on everything to do with your wedding day, so if anything needs to change at the last minute we'll be on it. We'll take care of everything, so there's nothing for you to worry about – apart from enjoying your wedding day of course! 
3. Warm up your guests with a delicious winter wedding breakfast menu 
Imagine mulled wines, ciders and gins for your drinks reception; warm, hearty foods for your wedding breakfast menu and a selection of amazing winter cocktails for your evening guests to enjoy! When deciding on your winter wedding breakfast menu we would suggest you play with the season and bring in comforting, homely and delicious flavours into your food and drink. How about starting your day with some delicious Turkey & Chestnut Scotch Quail Egg Canapés coated in a crumb made of breadcrumbs, smoked bacon and parmesan. Or if you wanted to steer away from a Christmas inspired menu, you could have Walnut-Crusted Goats Cheese & Truffle Honey Canapés…yum! 
At Stockton House you can create your own wedding breakfast menu from scratch working with our amazing chefs. Simply let us know your favourite foods and drinks and we'll craft a wedding menu unique to you as a couple (and the season). 
Drinks are also a super important part of your wedding day. If you want to go all out with your drinks selection, how about having a winter cocktail hour? You could really play on the winter wonderland theme and serve your guests Salted Caramel Espresso Martinis or White Russians! If you're looking for that little something extra on your wedding day, you could provide your guests with a tasty treat of Hot Chocolate with cream, marshmallows and all sorts of delicious toppings to keep them warm – you could even add a cheeky bit of alcohol to these too! No one can resist a Baileys Hot Chocolate in the winter months! 
At Stockton House we provide all the food and drink for your wedding day, all you need to do is let us know your favourite tipples and we'll be sure to have them stocked behind the bar. 
4. Get creative with your winter wedding decor 
As dusk starts falling and there's a chill in the air, get your wedding venue to light candles and lanterns all around the venue to bring warmth and light into the rooms. If your wedding venue has fireplaces, embrace them! Dress them with beautiful foliage and flowers, or even fairy lights for when the night draws in. 
If you're looking to add a festive or Christmas element to your wedding decor, how about having a huge Christmas tree at the entrance of your wedding venue?! Decorated with baubles to match your wedding flowers, full of twinkling lights and a beautiful bespoke tree topper of the bride and groom…ok we might be getting carried away now, but you get the idea!
Stockton House is full of stunning fireplaces, which are the perfect places to decorate with green foliage and rich, warm floral arrangements, candles, fairy lights…the lot! All our fireplaces can also be lit offering you a warm, cozy and inviting atmosphere for you and your wedding guests. The hallway and lobby at the main front entrance of Stockton House could be the perfect location to have a huge Christmas tree – this will be in the very middle of the house and will be one of the first things your guests will see when entering the house. We also have a private dining room on the north wing of the house, the bar room has a remarkable, original marble fireplace and then the drawing room on the south wing, leading to the secret walled garden dining room has a beautiful fireplace too. The grounds and gardens surrounding Stockton House are just calling out for twinkling lights on the trees, so no matter which large sash window you look out of you'll see a beautiful view of illuminated trees – almost like your very own winter wonderland! 
5. Choosing a magical winter colour palette 
You're probably thinking that there's so many colours to choose from! You're right, but hopefully we can give you some food for thought. We would suggest discussing as a couple what sort of vibe and theme you want for your winter wedding. Do you want to go with a classic, festive and Christmassy colour palette? If so, how about a rich, deep red colour palette or luxurious forest greens? 
Alternatively, if you're loving the idea of your very own winter wonderland an icy and fresh colour palette could be for you. Just think icy blues, crisp whites and sparkling silvers! 
Stockton House is all yours, and you can stay for as long as you like. This gives you the opportunity to decorate, dress and plan your wedding day exactly how you'd like it. No wedding at Stockton will be the same, from the happy couple, the food and drink selection and the wedding decor. 
Ready, set, go… and plan your dream winter wedding! Hopefully this blog has given you a helping hand in planning a magical winter wedding, but if you have any questions, or would like to book a viewing at Stockton House contact us today.