After the cold winter months and darker days, spring finally arrives. Beautiful greenery, plants and shrubs begin to grow again and beautiful blossom on the trees… Is there a better season to celebrate your wedding day?! 
Don't miss out on our three top tips for planning the ultimate spring wedding. Spring brides, let's have your attention…
1. Indoor-Outdoor Vibes
The weather in the UK in spring can be really unpredictable, so choosing the right venue for the season is super important. Spring can be full of warm, bright days but it could also be cold and rainy, you just never know! So choosing a venue with indoor-outdoor vibes could be the perfect choice. Our advice would be to plan for a warm, sunny day but make sure you have other options in case the weather isn't what you'd hoped for. At Stockton House you can exchange your vows in a number of different stunning spaces. If you're optimistic about the weather, you could host your ceremony in the unique Victorian turning house in our beautiful gardens – just remember blankets and shawls to keep your guests warm!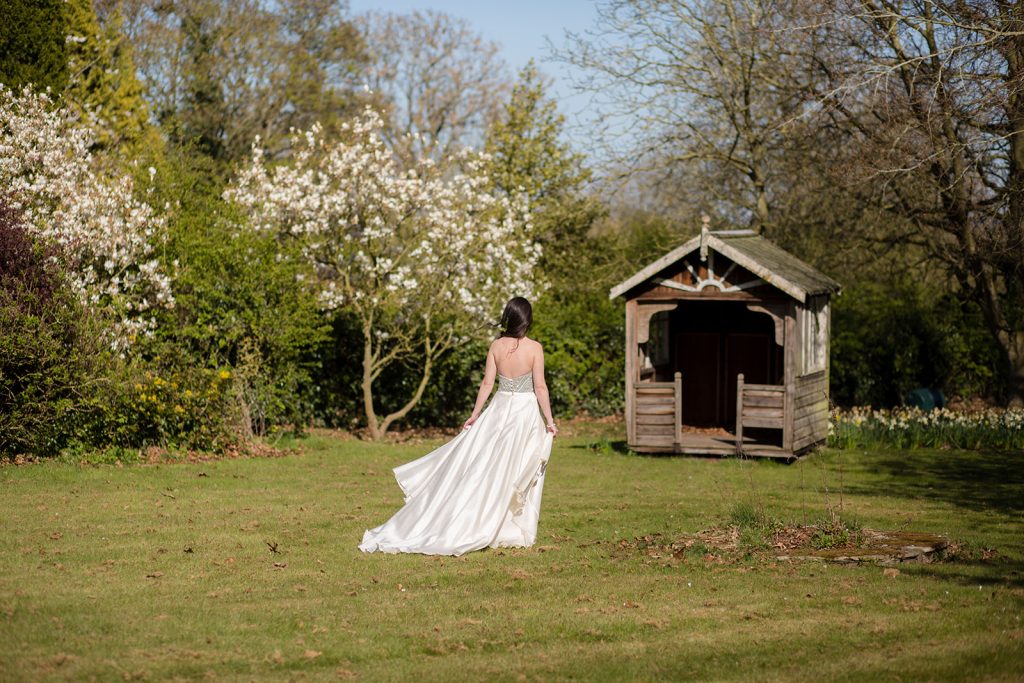 Not convinced? How about the stunning secret walled garden dining room? This beautiful open space seats up to 100 guests and will have beautiful flowers climbing its four and half meter high walls. To your guests this will look like a secret garden which is an amazing design feature that was popular in the early 18th century. What's more, if you open the grand, double doors you are transported into a large open space with a double curved ceiling, chandeliers and open windows to the gardens and grounds at the back of the house. This gives you and your lovely guests the feeling of being outside, but the warmth of being indoors!
2. Choose A Spring-Inspired Menu
A seasonal wedding menu is a good place to start when thinking about your wedding breakfast menu. With spring in the air, we can't help but get excited by the new delicious locally sourced ingredients that we can use to create bespoke wedding menus.
We love to use locally sourced ingredients at Stockton House. We locally source produce that is amongst the very best Shropshire has to offer. From the fields and farms on the Apley Estate, the ingredients our chefs use for your wedding menu are as fresh as they come.
We're part of the award-winning hospitality group Caviar & Chips, so food is at the heart of what we do. We begin the journey with a blank piece of paper, as we create your bespoke wedding. Working with our amazing chefs, you'll have the chance to create your very own wedding breakfast menu, just the way you like it! We don't have any set menus, we like to get to know you as a couple and craft a menu especially for you. If you're looking for a spring inspired menu, you could start your menu with a delicious Breast Of Partridge, Smoked Bacon, Confit Leg & Beetroot Pearl Barley, Charred Leeks Starter Course, followed by a mouth-watering Loin Of Venison served with Fondant Potato, Shoulder & Juniper Croquette, Glazed Carrots & Parsnips, Blackberry Jus – delicious! And finish your menu with something sweet and maybe slightly sour, how about Roasted Rhubarb served with Puff Pastry, Blood Orange, Vanilla Ice Cream & Ginger Syrup.
If you need more inspiration for your wedding breakfast menus, check out a few delicious sample menus crafted by our amazing chefs.
3. It's All About The Spring Florals
The season of spring gives you a great choice when it comes to flowers and wedding decor. Who doesn't love tulips, sweet peas and peonies?! They come in an array of different colours and look stunning in both bouquets and table centrepieces.
As spring flowers bloom, the colours of the beautiful English countryside and gardens change. You have so many colour palettes inspired by spring which you could incorporate into your wedding day, but here's a few ideas to give you food for thought! If you want spring garden vibes, you could have a stunning sky blue and garden pastels. Think pastel pinks, yellows, blues and greens, just stunning.
We hope this is the start of new beginnings for your spring wedding planning! If you have any questions, or would like to book a viewing at Stockton House contact us today.