Autumn is a beautiful time of year for your wedding day and as we step into the new season, now is the perfect time to think about planning your big day for 2022 or 2023. Just thinking of rich red and burnt orange leaves falling to the ground, the harvest of vegetables, fruits and nuts and the changing colours in the air makes us feel cosy, and certainly here at Stockton House gets us very excited with change in the air.
1. Choosing an indoor or outdoor wedding ceremony

Even in the summer time the weather can be unpredictable. And so depending on the wedding venue that you choose, you could still enjoy an outdoor wedding ceremony to take in all of those rich colours of Autumn.
At Stockton House we have the Victorian Turning House which would look beautiful with autumnal floral arrangements around the arch. Your guests could take their seats on the lawn and you could have lap blankets on hand for extra warmth and cosiness just in case. Exchange your vows as the leaves fall around you and your photographer will love the canopy of trees in the gardens behind you.
If an outdoor wedding ceremony isn't possible then bring it inside into the Secret Walled Garden Room. The orangery windows would make the perfect backdrop as you look out to the gardens with all of those colours streaming in… even if it may be raining outside!
Our tip here would be to look at ways you can play with the season. Perhaps have beautiful, rustic leaves scattered around on the aisle floor, or bring in a feel of harvest using fruits and berries as part of your displays. You could bring some autumnal vibes into your wedding decor including; pine cones, cinnamon, spices, beautiful lanterns or candles to give that warm, rustic feel for your guests.
2. Wedding photo backdrops
The colours of the leaves and the changing colours in this season are just breathtaking. So when selecting your wedding venue keep an eye out for the perfect backdrops for your wedding photos. Places with woodlands, beautiful countryside scenery and views are a great place to start.
Take a look through Instagram using the hashtag #autumn for some inspiration and see what photographs stand out to you that you could recreate. Ask your wedding venue about their ideas and what works well at different times of the year. You may be viewing your wedding venue in one season and planning for another, so get them to explain what it will look and feel like.
At Stockton House we've planned the gardens so that they look beautiful no matter what time of year, but one thing we know is that being on a countryside estate, we're going to have some incredible colours with the woodlands around us.

3. Get seasonal with your wedding food and drink choices
Dinners get heartier and richer, with larders packed with seasonal vegetables, meats and pie desserts. Planning your food and drink around the season of Autumn brings a whole new plate and so many new ingredients to enjoy.
At Stockton House you can plan your own bespoke menu and literally create your own wedding breakfast from scratch. If you love Autumn and autumnal food, then you're going to love working with our chefs on your food and drink.
We choose ingredients sourced locally on the estate and the farms around Shropshire. Game comes into season and so you could treat your guests to Partridge, Venison, Pheasant or perhaps Guinea Fowl. You could bring these ingredients into your canapes, your wedding breakfast meal, or even into your evening food with a Game inspired BBQ. Adding in things like a Blackberry Jus or Mushroom & Walnut Pate are just a few other ways you could really immerse yourself in the delights that the Autumn season has to offer.
With your drinks, you can look at some fantastic red wines such as a Pinot Noir or a Sangiovese. These reds aren't as intense and full-bodied as something like a Syrah and so they're perfect for coming out of Summer into Autumn. Look for ways to bring in English classics like Ciders, and as we move away from Summer Pimms you could have a Spiced Cider instead for your drinks reception.
You could check out a great food blog written by our chefs over at Caviar & Chips for more Autumn inspired dishes.
4. A warm, rustic colour scheme. 
Burnt orange, rich maroon and dark earthy greens are amongst some of the most popular colour palettes for Autumn weddings – and we think these compliment the season perfectly. If you're looking for something a bit more subtle, consider navy, burgundy or plum. 
Look for ways that you can introduce these into your flower arrangements, your outfits and your table schemes. But also remember you can do this in a subtle way too. Perhaps give your guests a delicious Sloe Gin as their favour.
If you're having a wedding stylist help with your schemes then they'll have some great ideas and suggestions. And if not, look out for tips on Instagram and Pinterest and build up those inspiration boards!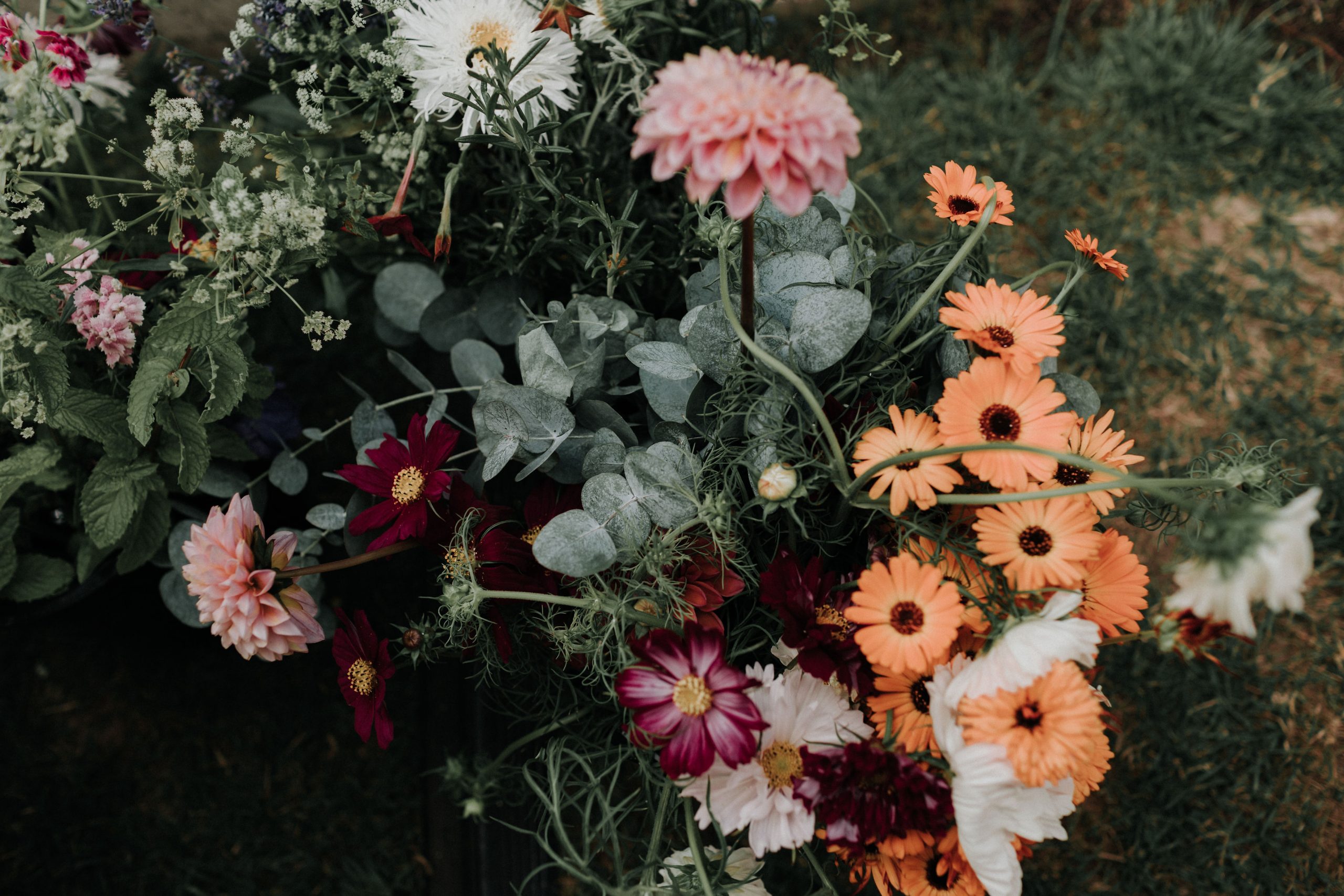 5. Golden touches 
This is the perfect season to celebrate those incredible golden make-up shades, embrace the extra shimmering bronzer and champagne highlighters! Or if you're looking to incorporate your wedding decor colour scheme into your bridal look, consider rose gold, coppers and reds into your eyeshadow. 
When you're meeting with your Hair and Make-Up Artist, discuss your ideas about how you'd like to bring Autumn into your style. Getting their guidance and advice as to what would work with your complexion and colour scheme will be invaluable.
Hopefully that's given you a good starting point and got you in the mood for your Autumn wedding planning. So get your polo neck jumper on, find your favourite scarf and get out there and enjoy kicking up the crisp leaves on the ground.